Thankyou for coming to my clunky website
The GO AWAY BUG SPRAY is out and doing an amazing job at keeping those bugs at bay. Please contact me to order until the PayPal button is finalized. Also should you be looking for the duo or triple pack deal found on my stall or on the price list below and cannot find the image or a PayPal button... Please email / phone or message me to receive that same deal that is on the stall.
GO AWAY BUG SPRAY
GO AWAY BUG SPRAY ORGANIC AND NATURAL 50ml - $25 125ml - $40 ************ ONLY 4 INGREDIENTS ************************ GO AWAY BUG SPRAY. The natural and organic way to kill and repel ticks, flies, leeches, mosquitoes, sand flies, midges and other annoying bugs. The Active Ingredient in GO AWAY BUG SPRAY is PMD 70% What is PMD? PMD (Para -methane diol 3.8) is a naturally occurring compound, and a proven insect repellent found in many common plants in a low dose of around 2%, which while it is still a powerful insect repellent at this strength the effect is hardly noticeable. Citriodora Corymbia Essential Oil contains around only 2% PMD. To render the PMD more effective Citriodora Corymbia Essential Oil has been taken through a process of green synthesis which turns the 2% PMD into 70% PMD. This product is known as PMD 70% (Oil of Citriodora Corymbia PMD 70%) and is the Active Ingredient in GO AWAY BUG SPRAY.. Please contact me if you are interested Garden sprays for killing mosquito habitat. These sprays are PMD and ISP (isopropyl Alcohol).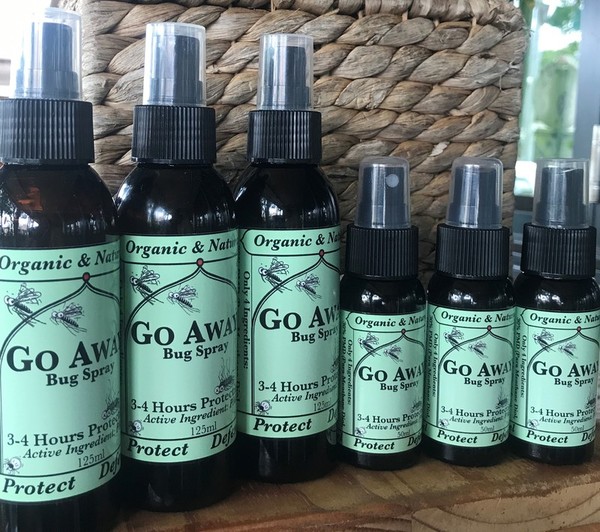 Moksha SkinFood Pricelist
100% Pure & Natural Organic Body Oils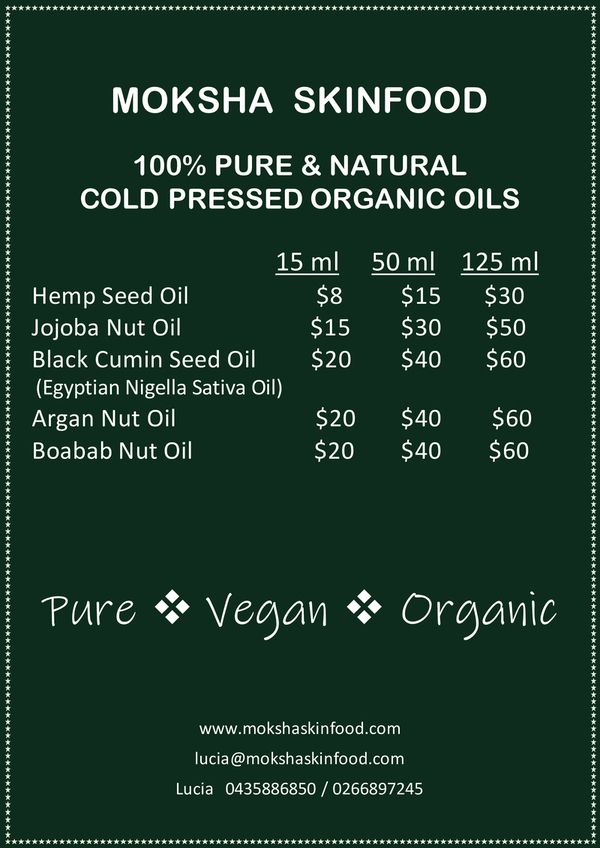 About Moksha SkinFood
Moksha is derived from a passion to make truly organic body care products. Moksha uses only Certified Organic, pesticide free, wild harvested ingredients. The exotic oils are souced from small farming communities with fair tradeing practises.
Moksha is free from water, emulsifiers, stabilisers, preservatives and any hidden nasties.
Pure ingredients blended together presenting as an amazing skin product with stable long life qualities.
Moksha is an artisan product lovingly made in small batches.
The Scent of Moksha
The sublime scent is from the finest single origin essential oils. The essential oil blend begins in the senses as a fresh light summery top note of an Italian Bergamot (bp free). A tinge of spicy Black Pepper from India and a generous splash of the complex warm tones of Rose Damask from Bulgaria combine to form the middle notes holding the scent together . At the end you will find the creamy woody grounding base note of Australian Sandalwood lingers on the skin.
Bergaptene free: means that the naturally ocuring chemical in Bergamot Essential Oil, which can cause sun sensitivity. has been removed.
Ingredients From Nature
I have searched high and low, spoken to other small business like myself and cut no corners to find the finest ingredients ,,, thank you to all my wonderful suppliers and to their integity of business.
Australian Pink Lake Salt, Kokum Seed Butter, Sal Seed Butter, Cacao Seed Butter, Cupuacu Seed Butter, Murumuru Seed Butter, Jojoba Seed Oil, Argan Nut Oil, Boabab Seed Oil, Black Cumin Seed Oil (Egyptian Nigella Sativa).
Single Origin Essential Oils: Bergamot (bp free), Rose Otto, Sandalwood.
pestcicde free /organically grown /fair trade ingredients
Lake Salt Scrub
Is a exfoliating moisturizer can be used for the whole body. Gently on the face go hard on the feet! Moksha Lake Salt Scrub will exfoliate and clean, protect skin from the cold and the wind, will give skin more elasticity and leave your skin hydrated longer. All in one step!! Makes a great lip scrub plumping up the lips and removing dry chapped skin, you just have to try and Mmmmm tastes yummy!!
Hydrating Body Butter
Exotic seed butters and oils, blended with single origin essential oils.to create Hydating Body Butter. Emphasis is on deep long-lasting hydration, leaving skin with a soft velvet like feeling. While having amazing emollient qualities, Hydrating Body Butter protect the skin from cold, wind and UV damage and if used regularly will heal and repair skin.
Enriching Body Oil
Is comprised of 2 powerful base oils, Jojoba Seed Oil and Black Cumin Seed Oil blended with 3 single origin essential oils, Bergamot, Rose Otto and Sandalwood. Enriching Body oil has a light skin feel and is absorbed quickly leaving the skin silky soft to touch. Moksha Enrich Body Oil loved by both men and women for its exquisite aroma. The earthiness of the black cumin seed oil blends beautifully with the essential oils creating it's very own sublime scent.
Weekend Pop-Up Shop
You can find Moksha Skin Food most weekends on Cullen Street Nimbin 2480 NSW Australia
... Feeling happy to be home in the Caldera
Contact Lucia
Moksha Raw Organic Skin Food
0435886850 ..... 0266897245

Lillian Rock Nimbin

,

New South Wales

2480
Food For Your Skin
Vegan, contains no palm oil, any additives or even water.
When was the last time you saw a product like that?
Moksha comes from the Sanskrit word meaning liberation.
Liberate yourself from harsh chemicals today